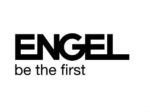 Er bestaat behoefte aan leveranciers die breed meedenken met als doel zo efficiënt mogelijk te produceren; leveranciers die in staat zijn een totale productiecel uit één hand te leveren. Engel biedt u dat voordeel. Machines, robots, matrijzen, automatisering en alle spuitgiettechnologieën = ENGEL.

ENGEL Benelux B.V. is een dochteronderneming van de Oostenrijkse multinational ENGEL AUSTRIA GmbH, te Schwertberg. ENGEL produceert spuitgietmachines en robots op drie werelddelen. Wereldwijd zijn er meer dan 85 vertegenwoordigingen, 32 hiervan zijn 100% dochter.
Op 1 november 1988 is ENGEL Nederland B.V. opgericht en sinds februari 2008 uitgebreid naar ENGEL Benelux.
'be the first'
In de afgelopen jaren is een marktleidende positie in de Benelux opgebouwd. Dus kan gesteld worden dat ENGEL de slogan 'be the first' met recht hanteert.
Trainingsmogelijkheden
Naast onze normale serviceverlening kent ENGEL een uitgebreid programma aan inspecties, speciaal toegepast op uw wensen, en uitgebreide trainingsmogelijkheden in Houten, Eindhoven, Diepenbeek of Gent of, heel gemakkelijk, bij u op het bedrijf. Bezoek de website voor meer informatie of vraag de scholingsbrochure aan.
Adres
Peppelkade 25
3992AL Houten
Telefoon
030 – 6380194
info.nl@engel.at
www.engelglobal.com/benelux