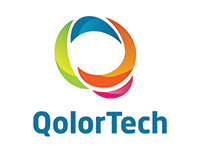 QolorTech has been in the pigments business for more than 60 years. The company, which was created in the late 30's by KVK, Denmark, manufacturer of organic pigments, historically acted as an agent and distributor, marketing pigments and affiliated products into the marketplace. By means of a management buy out in 1979, the current owners started the development of a new concept of being fully integrated:
Pigment technology
Marketing/sales
Sourcing
Manufacturing.
Nowadays, being involved in the manufacture of masterbatches, pigments, pigment- dispersions and high performance additives, not only technology is under direct control but also cost / performance.
QolorTech is a reliable partner, confidentiality is our key word, we help you to obtain the optimal conditions to manufacture the best products for your market, which is a mutually beneficial process.
QolorTech our facilities
QolorTech has a dynamic structure. The head office, including the specialty masterbatch plant and the black masterbatch plant are located in Vaassen, the Netherlands. Here we manufacture the well known Masterminds® masterbatches . On the same location we concentrate our R&D for all divisions. Our labs are well equipped for both analytical and application research. We have been certified ISO 9001 for many years.
From Vaassen we coordinate our outsourced manufacturing operations and agency activities worldwide. We closely cooperate with a limited number of agencies whom we represent in certain countries within the European Community. Their products are a perfect fit to QolorTech's marketing philosophy.
The QolorTech ® pigments, the core of our operations, are manufactured in long term partnerships in various countries across the globe. Local manufacturing conditions and QC are continuously shaped to QolorTech standards, which are amongst the highest in the market.
Our activities require a professional logistical structure.
Many years ago we constructed a logistics centre within QolorTech. Still today this unit contributes to our success in marketing such an extensive range of products all over the globe.
QolorTech long term
QolorTech has a long and rich history. Due to our creativity, dynamism and loyalty of our customers, we survived several attacks on our existence. In every occasion we came out stronger, and built the company to its present strength. Our investments are focussed on continuity, which is crucial to you, our partners in business. QolorTech invests in equipment, people, know how and acquisitions. Multiple production locations, with equal quality levels, ensure that we can always supply, even in extreme situations.
We firmly believe in our policy of serving high quality companies with top quality products, as particularly there QolorTech can offer its added value. Oh yes, we supply the so called commodity markets, but with intelligent products, which finally bring the profitability everyone is looking for. Our creativity in product design and raw material sourcing is, in this respect, indispensable.
Contact
P.O. Box 189
NL-8170 AD Vaassen
T +31(0) 578-569666
F +31(0) 578-578661
www.qolortech.nl
info@qolortech.nl